Broadband Wireless Network Solutions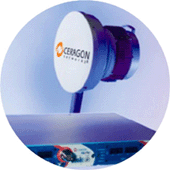 Features
System Overview
Applications
FibeAir 1500HP
FibeAir 1500AL
FibeAir 1500P-AES
FibeAir 1500A/1528A
FibeAir 1500I/1528I
FibeAir 1500S/1528S
Management
Whether it's 2G, 3G, WiMAX, triple play converged services or legacy networks, today more than ever, operators are looking for a solution that will cover the
most modern telecommunications trends. Based on a deep understanding of operator requirements and with future evolution in mind, we created the FibeAir 1500P family of products, which answers the need for a future-proof, efficient wireless networking solution and ensures backhaul profitability. State-of-the-art technology and a common hardware platform supporting multiple capacities, frequencies and configurations, make the FibeAir solution ideal for a broad range of network applications.

Optimizing operator costs and reducing risk were the foundations of the FibeAir 1500P system design. With its rapid deployment and maximum equipment efficiency, our field proven solution allows operators to leverage their investments and OPEX by simplifying migration to higher capacity multi-service systems.

Maximum Versatility, Maximum Choice

FibeAir 1500P is a versatile solution with the most comprehensive combination of advanced features and capabilities in a single platform. From 155 to 622 Mbps SDH/SONET and 50 to 800 Mbps Fast/Gigabit Ethernet throughput, a frequency range of 6 to 38 GHz and modulation schemes including QPSK, 16, 32, 64, 128 and 256 QAM over 10-56 MHz channels, FibeAir 1500P is an essential building block for any network.

FibeAir includes a variety of interfaces such as Gigabit Ethernet, nxDS3 and nxE1/DS1. The system can be installed in split-mount and all-indoor configurations, for long, medium and short haul transmission, with multiple protection schemes.
Integrated Solutions

TDM
Delivering high-capacity SDH/SONET (nxSTM-1/OC3) and medium to high PDH traffic (nxE1/DS1,1xDS3, and 3xDS3), FiberAir 1500P radios constitute the power behind your transport network.

Ethernet
For IP-based traffic, FibeAir 1500P is a flexible and robust fiber-like solution with Fast Ethernet and Gigabit Ethernet options.

Converged
Both TDM and Ethernet traffic interfaces can be provided within the same radio carrier. Each carrier allocates capacity for nxE1/DS1 traffic utilizing the remaining bandwidth for Ethernet traffic. This method, known as dynamic bandwidth allocation, is available for Fast & Gigabit Ethernet solutions.

Long-Haul
FibeAir 1500HP (High Power) is the first split-mount radio to be optimized for long-haul applications. Our unique embedded space diversity protection, with dual receiver architecture, extremely high transmit power and IF combining algorithm, guarantee superior performance and errorless transmission. For operators, this means a carrier-grade solution that uses less equipment and smaller antennas, resulting in substantial savings on initial investments and operational expenditures.

Security
Our secure solutions with advanced encryption are based on the AES algorithm. When encrypted links are essential for applications such as those in government or military facilities, FibeAir 1500P ensures that data will be encoded, so that only authorized users are able to send or receive it over the link.