AirPair All Outdoor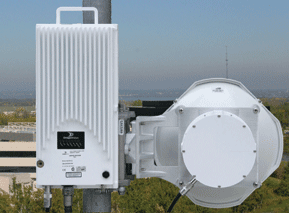 The AirPair platform was designed from the ground up to meet the critical requirements demanded by service providers. The AirPair modem (which provides the interface between the Ethernet connection and the radio) is available in either an indoor or outdoor packaging option.
The AirPair Outdoor Unit (ODU) is designed in a compact, weatherproof all-outdoor package that requires no indoor space. The ODU is very easy to install, with all the equipment in one location, in an easy to carry package. In the ODU configuration, the radio, antenna and modem are all mounted outdoors.
A single custom cable, available in 30m (98 ft), 60m (196 ft), and 90m (295 ft) lengths is used to connect from the base to the modem. This cable contains the DC power to the modem as well as the GigE/1000bT cable for user data and a 10bT management port. A second 1.8m (6ft) RG 214/U coaxial cable is used to connect the radio to the modem. A RS-232 port for craft and PDA access, as well as all LEDs are located on the ODU to ensure rapid deployment during installation.
Specifications
Modem (ODU) - Post / Mast Mount
40 cm x 19.6 cm x 8.1 cm; 5.4 kg
15.7 in x 7.7 in x 3.2 in; 12 lbs
Connections
| | |
| --- | --- |
| Power | 48V, Cable Supplied |
| Payload (+ Inband NMS) | RJ45 (1000/100 BaseT) or MM Fiber |
| Craft Terminal | RS 232 |
| IF Cable | N-Type Connector |
| NMS (when out-of-band) | MIL Circular (outdoor) RJ45 (indoor) |