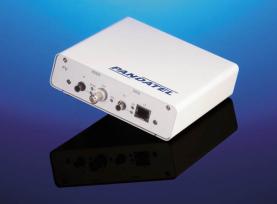 Fiber Optic Video Converter
Transmission video signals on fiber (VBS standard)
The units of the product group FVC complete the security sector. They allow the transmission of video and data signals via fiber optic, e.g. video signal and camera control (pan, tilt and zoom).
Using the FVC units guarantees all the advantages of fiber optic technology: electrical insulation, galvanic separation, tab proof as well as long transmission distances. The units are prepared for the use of a WDM Fiber Doubler, i.e. the costs for fiber installation can be reduced significantly.
The Fiber Optic Converters (FVC) are well suited for area and building surveillance, gate, tunnel, traffic and access control (e.g. airports, refineries etc.). According to the requirements transmission distances of up to 20 km can be reached.
The Fiber Optic Converters (FVC) are available as standalone units, for top hat rail mounting or for installation in a 19" rack.
FVC
Fiber Optic Video + Data Converter
Overview of Features
Data rate: 115.2 Kbps
Interfaces: RS485, RS422, RS232
Multimode: 850 nm / 1300 nm LED
Singlemode: 1300 nm / 1550 nm LED
Distance: 20 km
Standard: 1 Vpp, VBS
Impedance: 75 Ohms
Video input: BNC
Standalone unit, DIN-rail, wall mount,
19" rack mount card